By Andy Slawetsky – EXCLUSIVE, BERLIN – Konica Minolta Europe held their Leadership Campus (dealer meeting) in Berlin on October 20. Under the theme Together We, over 1,000 attendees from 53 countries came to spend the day attending a keynote session, seminars and an impressive product fair. It was interesting to attend the European meeting so soon after the US dealer meeting in Carlsbad earlier this month.
While US meetings are traditionally two or three days, Europe held a one day meeting; and it was on a Friday, ending with a big party. You might think a lot of people would have left to head home after the event concluded at 5 PM, but that wasn't the case as nearly everyone stayed for the finale.
The name was changed this year from "conference" to "campus" in order to convey the feeling of learning and collaboration and the messaging was strongly focused on the importance of these resellers to Konica Minolta. They reinforced this messaging throughout the speeches.
President and CEO of Konica Minolta Shoei Yamana came all the way from Japan to deliver the opening speech, discussing how office and production printing remain at the core of Konica Minolta and telling us that they continue to be a growth opportunity for the OEM. 
He then discussed Konica Minolta's Edge strategy and the forthcoming WorkPlace Hub products that will tie all connected devices together. The WorkPlace Hub was formerly announced in March and should be available early in 2018. 
Following Mr. Yamana, KM Europe President Ikuo "Indy" Nakagawa took the stage. Many of you US readers may remember Indy from his time in the Americas. My dad, Lou, remembers him fondly.
---
---
Indy continued the WorkPlace Hub discussion, explaining what a milestone it is for Konica Minolta. He told listeners that he sees IT Services as a big opportunity for European dealers and resellers. He then reiterated that digital printing is still a huge potential for the manufacturer. He concluded with, "we have been transitioning our business and we believe you are part of this transformation.
After the guest speaker, the lights went dark and Mr. Yamana hit a button, which activated a light show that culminated with the dropping of the massive curtain behind the stage. Behind this curtain was an enormous product fair with all hands on deck standing before the crowd. It was an awesome moment and attendees went wild.
The floor was considerably different than that seen recently in Carlsbad. As KM Europe holds their meeting every two years, they took the opportunity to show a tremendous amount of technology, whereas KM US having just held a show last year, opted to focus more on solutions and new product categories for dealers to explore.
This layout was beautiful and as dealers were only here for one day, every second mattered. Lunch was served in the outlaying areas with seating spread throughout the show. There was a relaxation area set up by major sponsors such as EFI and Y Soft as well as others.
After a snack, KM Europe GM Olaf Lorenz and GM Charles Lissenburg took us to different stations to learn a bit more. I saw some very cool stuff here, some things unique to the European market. 
One of these was Eva, Konica Minolta's voice control technology, which can run a copier. "Eva, make me two copies," and the copier does what it's told. This is not the first time I have seen a company in this industry working on voice control technology, but this is developed by KM Europe and it is already being texted by a customer. The subtle part of this is that it wasn't Siri or Alexa, but rather, it was their own voice system that they developed. There's a lot going on in KM R&D!
Another interesting item on the floor was an air filter system that actually uses the copier to remove particles from the air, thus improving the air quality in the room where the device sits. They had a meter they used to demonstrate how this worked, showing the lower levels of air particles at the exhaust area of the machine. It's an optional box attached to the back of the unit, sitting on top of the normal filter, This filter pulls dirty air from around it and sends it back out with the harmful particles removed. This is a great application for manufacturing plants and any place where customers would like to improve their air quality. I saw some other key demonstrations centered around security and received a nice overview of Y Soft SafeQ software as I walked around. 
A significant area of the floor was dedicated to production and commercial print, labels, packaging and finishing. KM Europe had a large variety of graphic arts and commercial print equipment on the floor, including some that I can't yet discuss in detail. There was great interest in these products and KM continues to push this program forward in leaps and bounds.
Like the US, Konica Minolta Europe was also showcasing the Mobotix facial recognition technology and Alice, Konica Minolta's virtual assistant that's part of the Office of the Future initiative. They even had some really interesting virtual reality technology they were showing where eyeglasses could run digital messaging in front of the wearer's view. This was used to facilitate instructions, so a person wearing them could be walked through the steps of a task through images rolling before their eye. Very futuristic. 
The sessions were set up where we were seated during the earlier presentations and the stands were divided into four visually stunning areas where attendees learned more about WorkPlace Hub, Office of the Future, etc.
My afternoon concluded with a brief one-on-one session with Olaf and Indy. We had a nice conversation about the differences and similarities between the US and European markets. The messaging for this event was very similar to that in the US for the most part, but not completely. Serving 53 countries is challenging and KM Europe seems to do a good job of balancing the unique needs and requirements from so many markets. But the common messages are identical. Managed Services, WorkPlace of the Future, commercial print and so forth.
After the afternoon meetings, it was off to a private event that began with a great dinner in a huge hall decorated like Berlin from the 1920s. I was seated with Y Soft CEO and founder Vaclav Michna and his team and it was great to meet him in person. We discussed the growth of this company from a small start up to one of the leaders in print management software. Entertaining conversations, for sure; he's a great guy to be seated near!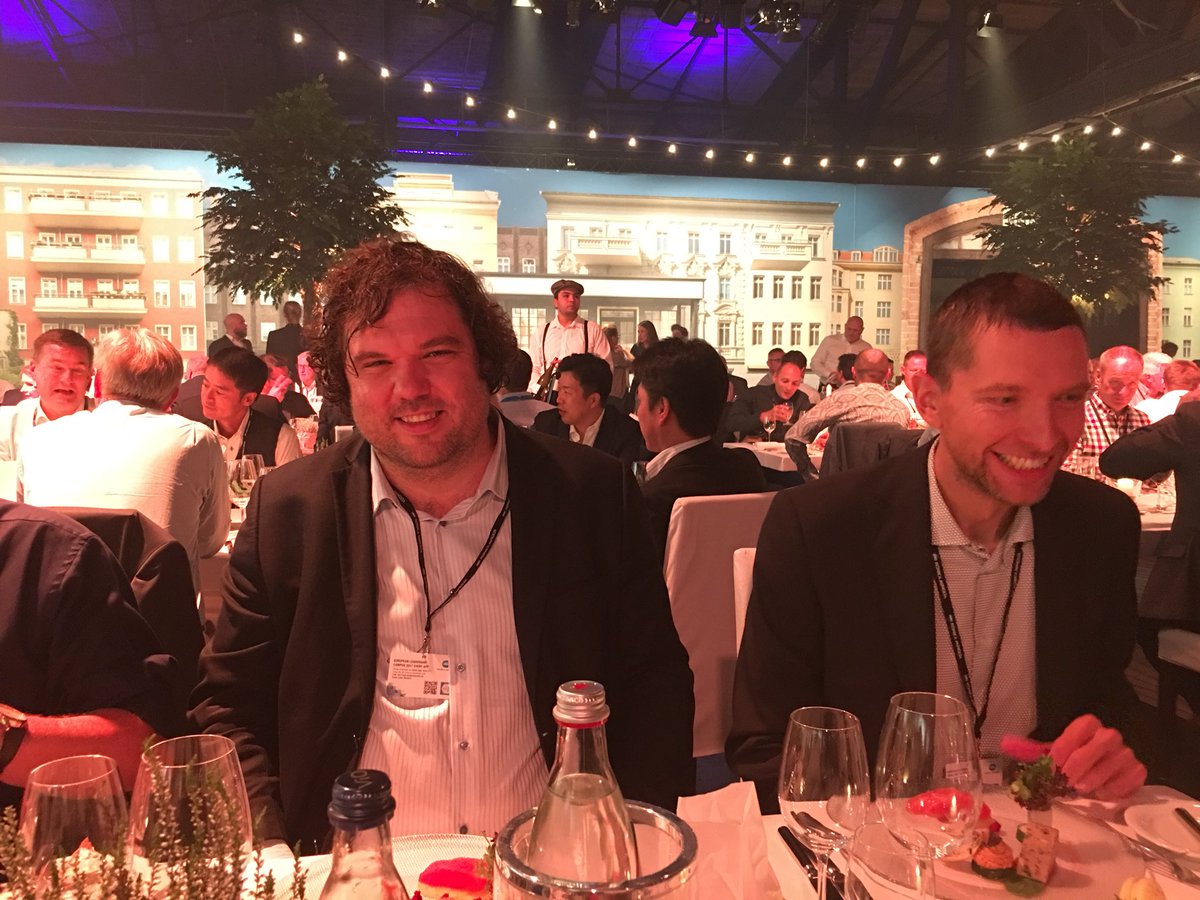 After dinner, the entertainment began, starting with some dancers that opened the event earlier that day. It was loud and it was wild as the band took the floor and with an early flight home the next morning, I slipped out. Olaf told me he planned to be there until the end – roughly 3:30 AM!
This was an informative and powerful event. Konica Minolta Europe certainly flexed their muscles, showcasing the breadth of their portfolio and the new directions they're taking their dealers. I was surprised this event was only one day. That was a lot of work for a few hours and it must have cost a fortune to set up and tear down. But, the effect was powerful and dealers were impressed. I was also surprised to see how many people knew me from my newsletter. It was great to meet you all!
In all, the Executive Leadership Campus was a strong statement about Konica Minolta. They're clearly not a "me too" company. They're innovative and are forging ahead in some daring new directions, particularly with the WorkPlace Hub strategy. They're not adapting their products to the office, they're defining how the office may/will look someday. And their confidence in this channel as they make nearly all commercial print and graphic arts products available to dealers is second to none. Where competitors hold back higher end products, keeping them for direct channels, KM makes them available to everyone qualified to sell them.
I appreciate the opportunity to attend this event and would like to thank KM Europe for including me.
~Andy