Loffler Companies, now the Upper Midwest's largest privately held business in the industry, has been placed on the Elite 150 of CRN's 2016 Managed Service Provider 500 (MSP500) list. CRN is the top news source for solution providers and the IT channel.
The MSP500 is an annual list which recognizes the top technology providers and consultants in North America whose cutting-edge approach to managed services puts end-user customers in the best position to improve efficiencies, cut costs and speed time to market for their own products and services.
"This award by CRN recognizes the investments made by Loffler Companies to support our clients with a world class set of managed services.  We are honored to be selected for this prestigious award," explained Jim Loffler, President and CEO.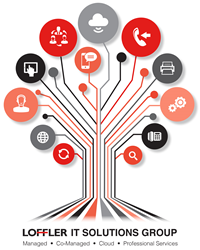 "As businesses increasingly turn to managed service providers to fulfill their IT needs, Loffler's IT Solutions Group is adding a range of professional and IT hosting services to their offerings to better serve clients," commented James Loffler, Director of Loffler's IT Solutions Group. "Being recognized on the Managed Service Provider 500 list validates our forward-thinking approach to providing managed services."
Being honored on CRN's MSP500 list isn't the only recognition Loffler Companies has recently received. For the eighth consecutive year, Loffler Companies was honored to be named to the Inc. 500/5000 Fastest Growing Private Companies in America list. In addition to winning the prestigious Jefferson Award for Public Service, Loffler has been named a Star Tribune Top workplace for five years-in-a-row, and one of the "100 Best Places to Work in Minnesota" by Minnesota Business magazine for four consecutive years.
Konica Minolta Recognized As #1 Brand Keys Customer Loyalty For Ninth Consecutive Year
Loffler Companies, excelling under Jim Loffler's leadership since 1986, continues to be the leading business technology and services provider in Minnesota and Western Wisconsin. Recognized as the number one Minnesota Canon copier dealer, the top Konica Minolta dealer covering Minnesota and Western Wisconsin, as well as an HP Elite Partner dealer, Loffler's more than 400 employees work hard every day to exceed the expectations of clients, partners and the community. In addition, Loffler is one of the top 10 Canon and Konica Minolta dealers in the country, a Konica Minolta bizhub PRO specialist and Konica Minolta Pro-Tech Certified (top 2% in the country), making it clear why they are an Elite Dealer. Loffler Companies' goal is to be the best business solutions provider in the Midwest.
About Loffler Companies, Inc.
Loffler Companies is an independent professional services organization dedicated to providing innovative business technology and services serving the Twin Cities, St. Cloud and Central Minnesota area, and Western Wisconsin. Our offerings include Multi-Functional Copiers, Printers, Managed Print Services, IP Phones and Voice Recording, IT Solutions, Software and Workflow Technologies and On-site Managed Services for mailrooms and copy centers. For more information about Loffler Companies, visit us online at http://www.loffler.com, or contact us at 952-925-6800 or via email at info(at)loffler(dot)com.
Canon Solutions America Planted a Million Trees with Trees for the Future to Inspire a Greener Future