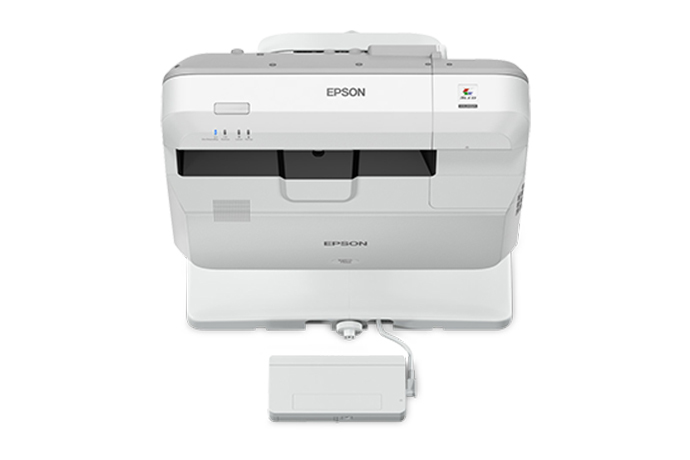 Epson®, the number-one selling projector brand worldwide, was honored by the Campus Technology and THE Journal 2017 Readers' Choice Awards. Both programs ask readers to nominate and vote for their favorite educational tools and technology for the higher education and K-12 classrooms respectively. This year, Epson won four Readers' Choice Awards, two from each publication. Campus Technology and THE Journal both awarded Epson a Platinum Readers' Choice Award, the highest honor, for its Favorite Projector category.
Campus Technology readers also awarded Epson a Gold Readers' Choice Award for Favorite Interactive Whiteboard, Display, and Flat Panel for Epson's line of BrightLink® interactive ultra short-throw presentation displays. Epson launched the BrightLink 685Wi, 695Wi, 696Ui, and 697Ui in January. These enhanced displays enable individualized instruction with wireless content sharing1 and deliver a bright, readable, interactive image up to 100-inches. In June, Epson launched the world's first 3LCD ultra-short throw interactive laser display, the BrightLink 710Ui. This newest BrightLink delivers a large, bright, 100-inch image, laser technology providing up to 20,000 hours2 of virtually maintenance-free operation, and Instant Off® technology.
THE Journal readers also awarded Epson a Gold Readers' Choice Award for Favorite Document Camera. The Epson DC-21 high-definition document camera delivers astounding clarity and color with HD 1080p resolution and a large imaging sensor, and extraordinary close-up detail with 12x optical zoom and 10x digital zoom. The DC-21 also offers HDMI®connectivity for high-definition video, a microscope adapter for sharing magnified images, and a built-in microphone, and the camera rotates 90 degrees vertically and horizontally so educators can use it as a webcam to record lessons. Educators can also use the Split Screen function to display live and captured images side-by-side. In August, Epson announced the expansion of their document camera line to include two new portable document cameras – the DC-07 and the DC-13.
"Epson understands both K-12 and higher education classrooms are changing, and we're committed to creating innovative hardware and collaboration tools that meet educators and students' changing needs," said Jason Meyer, education product manager, Epson America, Inc. "Recognition from these two Readers' Choice Awards programs reinforces our strong belief that presentation displays and document cameras will remain an integral part of classroom instruction."
As a leader in innovation and partnership, Epson also offers the Brighter Futures®program, a unique sales and support initiative available specifically for schools. Designed to help educators select and implement the best products for their classrooms while making the most of their budgets, Brighter Futures offers special pricing, extended Epson limited warranty coverage for a total of three years, dedicated education account managers, and toll-free technical support for all Epson projectors and associated accessories.
About Epson Education Products
Designed with educator input, Epson's advanced interactive display and projector technologies make bright, collaborative learning environments a reality. Compatible with a wide range of devices and widely-used interactive software, Epson projectors make it easy for teachers to share content to engage students, no matter where they sit in the classroom. Epson's unmatched technology, service and support ensure educators are confident that high quality, bright images and multimedia are available in the classroom every day.  
About Epson
Epson is a global technology leader dedicated to connecting people, things and information with its original efficient, compact and precision technologies. With a lineup that ranges from inkjet printers and digital printing systems to 3LCD projectors, smart glasses, sensing systems and industrial robots, the company is focused on driving innovations and exceeding customer expectations in inkjet, visual communications, wearables and robotics.
Led by the Japan-based Seiko Epson Corporation, the Epson Group comprises more than 80,000 employees in 86 companies around the world, and is proud of its contributions to the communities in which it operates and its ongoing efforts to reduce environmental impacts.
Epson America, Inc., based in Long Beach, Calif., is Epson's regional headquarters for the U.S., Canada, and Latin America. To learn more about Epson, please visit: epson.com. You may also connect with Epson America on Facebook (facebook.com/Epson), Twitter (twitter.com/EpsonAmerica), YouTube (youtube.com/EpsonAmerica), and Instagram (instagram.com/EpsonAmerica).
# # #
1 For wireless functionality, including via the Epson iProjection App, the projector must be configured on a network, either through the Ethernet port on the projector (check model specifications for availability) or via a wireless connection. Check your owner's manual to determine if a wireless LAN module must be purchased separately to enable a wireless connection. Not all Epson projectors are able to be networked. The Epson iProjection App does not support all files and formats. See www.epson.com for details.
2 20,000 hours is the estimated projector life when used in Normal Mode. Actual hours may vary depending on mode and usage environment. The BrightLink 710Ui comes with a three-year limited warranty.
---
100 PPM WorkForce Enterprise WF-C20590 A3 Color Multifunction Network Printer