By Katja Leonhardt
With DocuWare Hub, you can use store documents straight from a smartphone into DocuWare. Regardless if it's a PDF brochure that you've downloaded or an invoice you've scanned with your phone – all documents can be comfortably archived in a file cabinet or temporarily stored in a basket thanks to DocuWare Hub.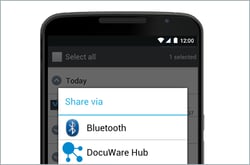 From a basket, documents can be automatically indexed by using Intelligent Indexing or sorted and stapled together. If you store documents straight away in a file cabinet, they will be immediately available to authorized colleagues.
Simply choose the "DocuWare Hub" app from the split menu. The document will then be automatically uploaded to DocuWare Hub as the storage target.
The connection to DocuWare can be comfortably set up by using a QR code – more about that in the article DocuWare Hub – Many Sources – One Target.
DocuWare Hub is available for iOS, Android and Windows Phone (beta).
To get to the App Store:
Please note: The iOS photo app does not offer a share-feature. So you cannot store images from this app directly into DocuWare.