Thanks to organic growth, high customer satisfaction and recent acquisitions, Marco has become a staple in Wisconsin. The technology provider offers comprehensive services, including copier/printer, Managed Print Services, Managed IT, voice, carrier services, audio/video and data solutions.
Marco entered the Wisconsin region in 2011 – with a single office in Eau Claire – and Marco built its Wisconsin footprint from that first office and only three employees. Today, the company has seven offices across the state and 139 employees.
"Starting and growing Wisconsin was an exciting risk. I'm so grateful for our clients who put their trust in us early on and believed in us when we were still the new kids in town," said Kevin Schmidt, Marco Sales Director.
In 2011, Schmidt moved his family from the Twin Cities to Eau Claire, leaving an established sales role to take a chance with his future. "Moving our family was risky; I left behind a great job, but I believed we could grow in our new region," said Schmidt.
And grow the company they did. Since venturing into Wisconsin, Marco has integrated six businesses, including Enterprise Systems Group, Northeast Photocopy, Hadley Office Products and the most recent Accent Business Solutions. "I still remember walking in the room when we first acquired Northeast Photocopy. I was excited but also a little nervous," Schmidt said. He explained his team had a strong game plan, but wondered about the culture fit, comradery, role shifts and how everyone would work most efficiently together.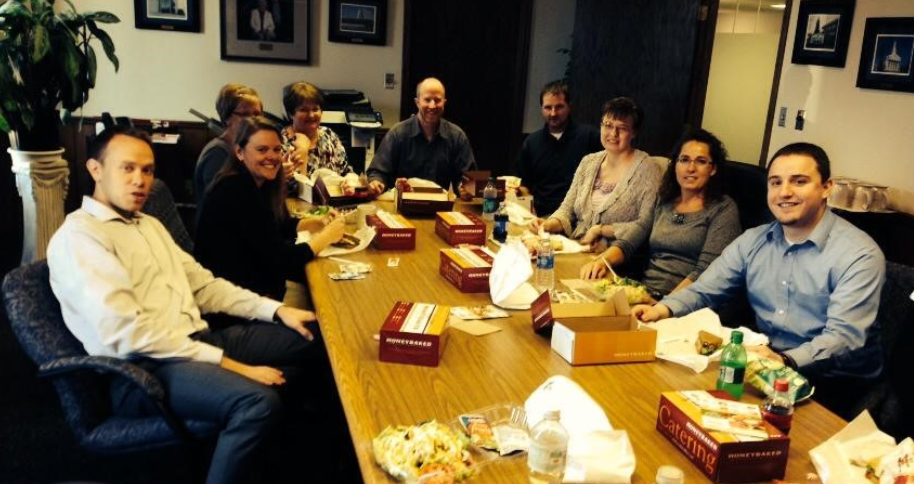 Marco teammates enjoy their first lunch as a team in the newly acquired Northeast Photocopy office.
Schmidt and the other Marco members didn't need to worry; the teams immediately connected. "We had a lot of fun integrating. In fact, we grew sales and delivered their highest producing year! Being our first major acquisition in the state, this team really set the example to our employees who came in later acquisitions that they can be a part of something special." Schmidt added that many of the staff have secured prominent roles and developed their Marco careers.
---
---