The new building centralizes their Twin Cities area workforce with modern design, technology built for today's hybrid workforce and room to grow in the years ahead.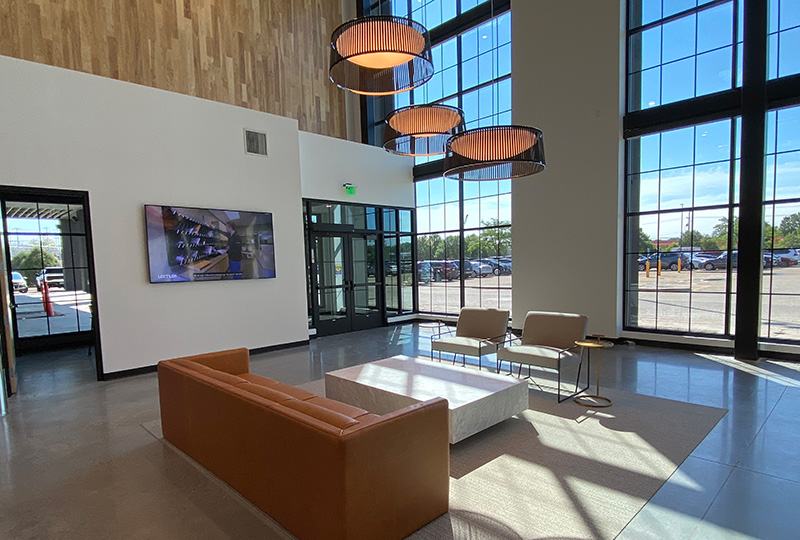 Loffler Companies moved into their new St. Louis Park, Minnesota, headquarters building at 3745 Louisiana Avenue South on Wednesday, August. 3, 2022.
The new space combines at least seven non-contiguous spaces and houses Loffler's corporate offices, warehouse, Unified Network Operations Center, the Loffler Document Services Center (LDSC) and has five professional docks to facilitate equipment installation and delivery.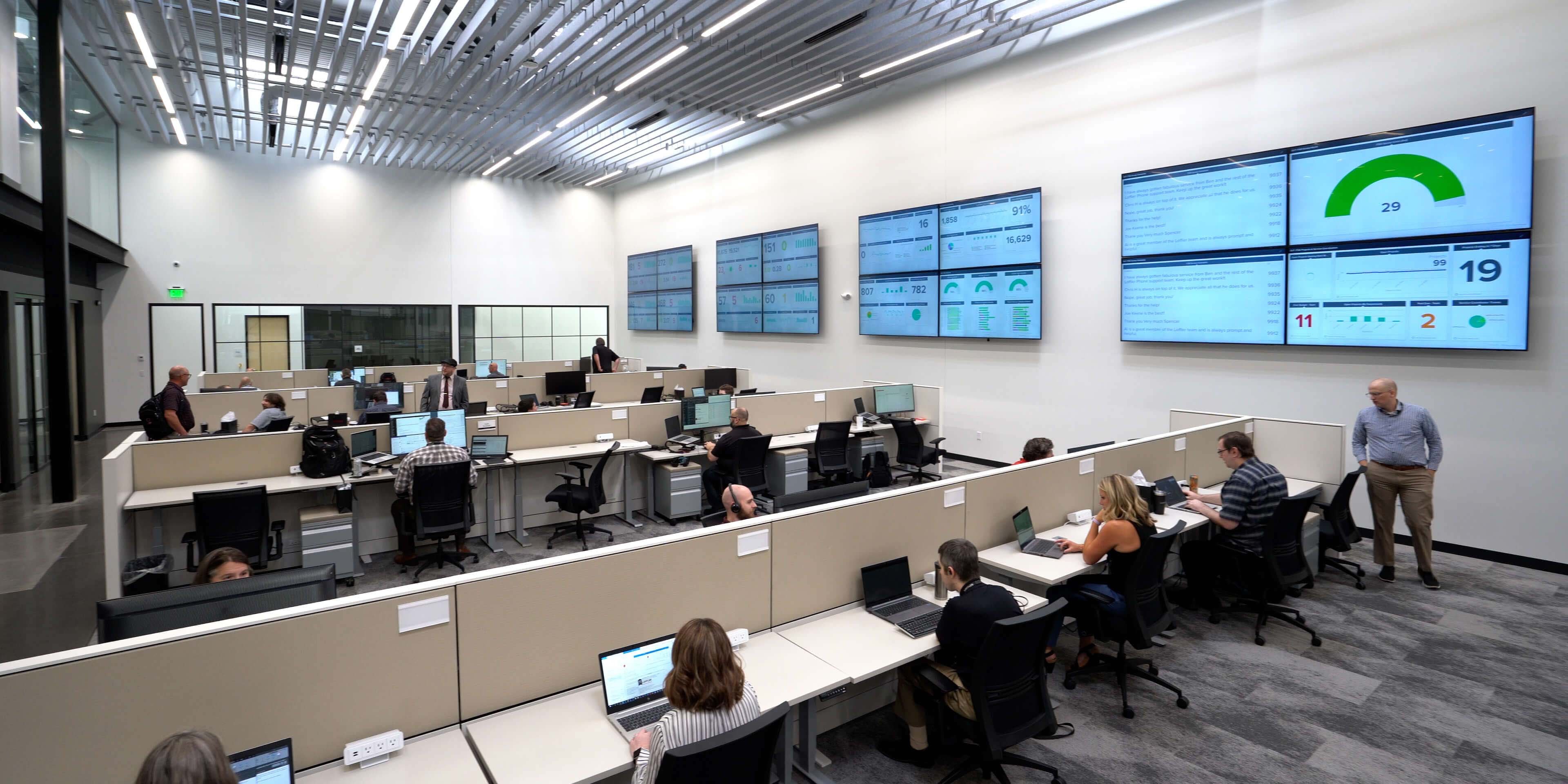 "It's a unifying space for the upper Midwest team," said James Loffler, President of Loffler Companies. "This is a nice neighborhood, in a centralized location, which gets us closer to the market area we have and for our employees, too. There is a lot of talent in this area."
The new building sits on the 13-acre former Sam's Club property on Louisiana Avenue and Highway 7. The new headquarters gives the Loffler Team beautiful office space with 280 workspaces, as well as conference rooms and collaborative areas. The warehouse fills another 68,724 square feet of high bay space. Loffler will also be leasing out up to 30,000 square feet of available space to a tenant, which also allows for future growth.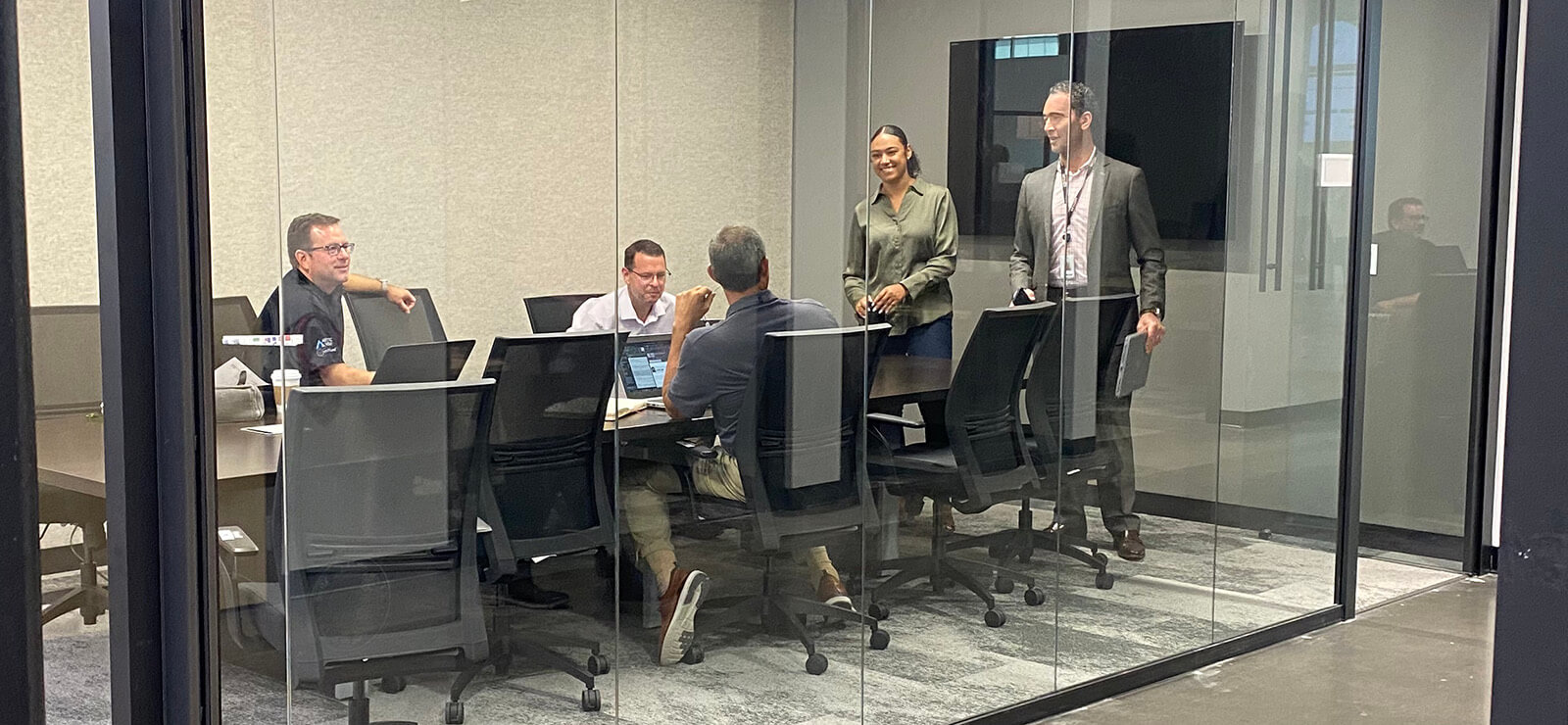 "Having so many employees in one building, rather than five, improves communication and improves our ability to help support the client to make their experience even better," said Jim Loffler, Founder and CEO of Loffler Companies. "We're able to dramatically improve the speed in which we support our clients, Loffler team members, branch offices and partners. The new space will be a place to inspire us to work hard and enjoy a positive and fun culture doing it."
Loffler purchased the property in January 2021. Phase 1, building out the warehouse space, started immediately and lasted just over two months. The warehouse has been functional for a little over a year. With the corporate offices and LDSC move on August 3, Phase 2 is nearly complete.
Loffler's former headquarters location at 1101 East 78th Street in Bloomington, Minnesota, will continue to house Loffler real estate, as well as be a remote disaster recovery facility, parts depot and technology space for Loffler's growing technology business. The City of Bloomington has been a great partner for Loffler Companies and we look forward to continuing our business there.
Loffler Companies is committed to the environment. After learning The National Trust for Historic Preservation's Green Lab found that it can take up to 80 years before the energy efficient features of a new building begin to make up for the damage their construction has caused, Loffler decided not to demolish the 150,000 square foot building. Instead, they re-imagined it with sustainability in mind. They added blinds with sun sensors, lights with motion sensors and high-efficiency glass windows to help reduce energy needs for temperature control.
The new building offers modern and vibrant design, while emphasizing the new ways people work together, both in-person and hybrid, with focus on collaborative areas, employee flexibility, access to outdoor space, public transportation and other amenities.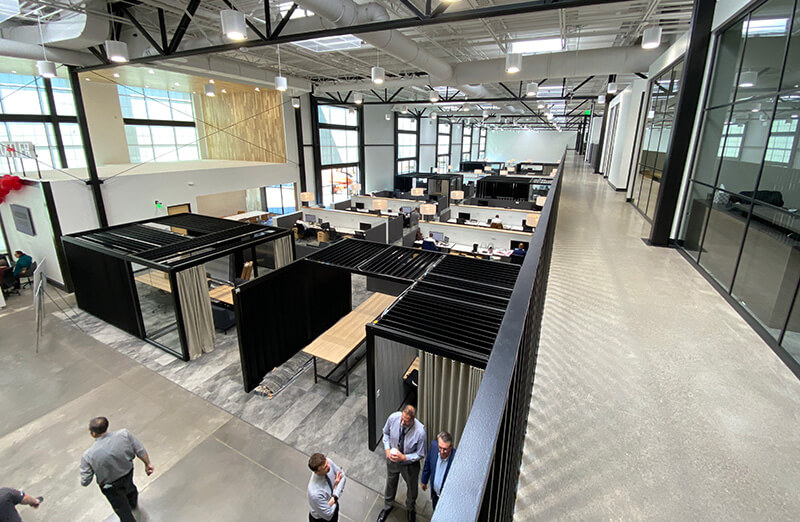 "That's the main thing with this space,  is it's a completely different way of working than it was before," said Danielle Loffler, Loffler's Corporate Real Estate Manager. "It's focused on the employee and collaboration and their quality of life. Giving the employee more choice in how they can be most productive throughout the day. Where they work, how they work, who they work with. That's really what this is all about, shifting the entire idea of the office for the employee."
The renovated space mixes natural and industrial textures, like wood, marble, leather, concrete and metals, along with flexible workplaces for hybrid employees, collaboration spaces with comfortable living-room seating, stadium seating for large presentations, sports simulator and ping pong and bean bag games. Along with ample parking spaces, the new offices also offer an espresso and coffee bar, bike storage and repair station, exercise facility with weight and cardio equipment, private showers, group fitness and yoga space, wellness rooms, mother's room, micromarket with healthy, fresh eating options, outdoor covered patio with games, seating and a picnic area. The building is also a future site of the Southwest Light Rail Transit station and has access to the Cedar Lake Trail biking, running and walking path.
"We're on the front end of this change, investing in the future of the workspace," James Loffler said.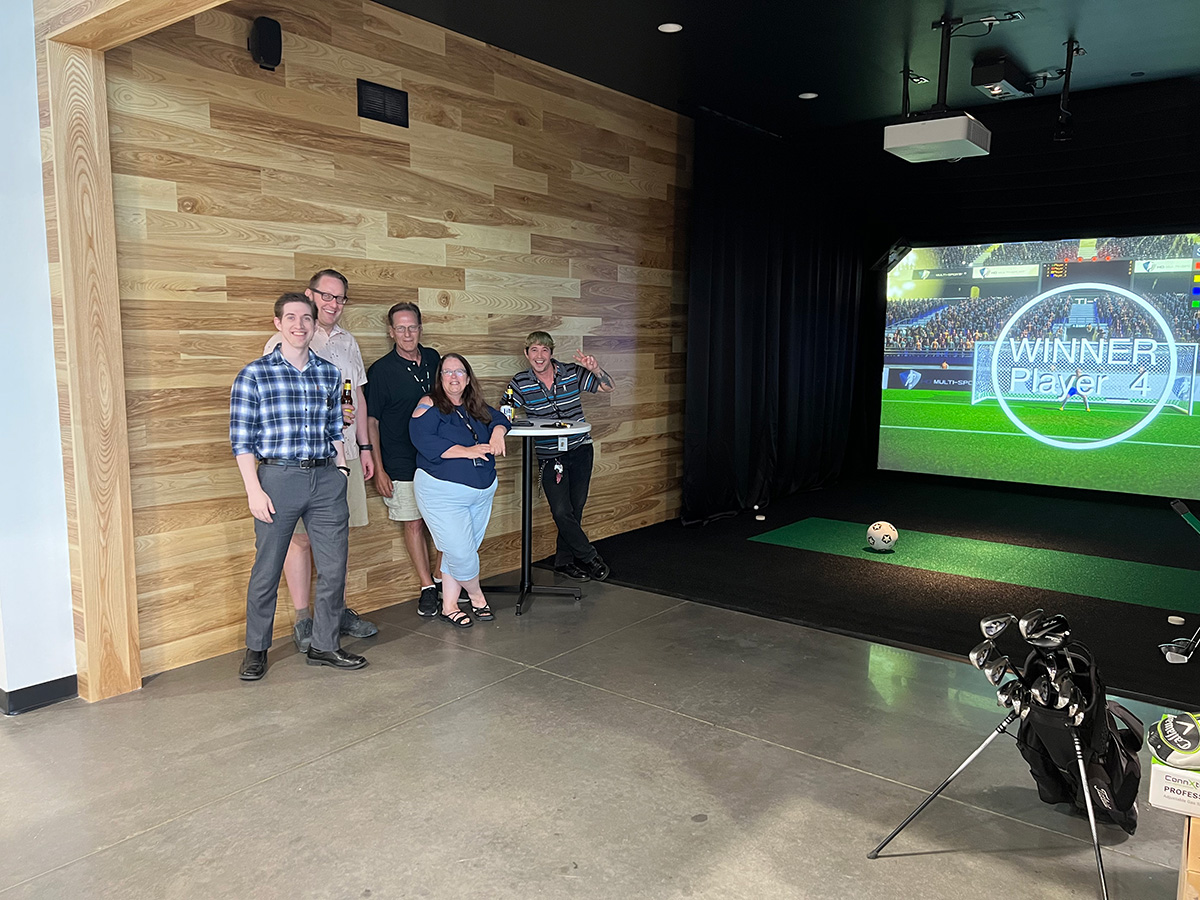 For Loffler's clients, this change means Loffler is modernizing the client experience. The Unified Network Operations Center (NOC) displays real-time dashboards that give the team a toolset to better collaborate and serve clients across the United States. The NOC brings all of Loffler's support power together under one platform, with one support center for taking care of our IT, copy and print, and Unified Communications clients. The expansive warehouse enables them to receive, prep and ship products to clients quicker and more efficiently. The architecture and furnishings of the building encourage impromptu brainstorming sessions and spaces to step away and find a solution while being able to collaborate to solve issues for a client.
"For a technology company, technology is everything," Danielle Loffler said. "We're creating a space designed for hybrid [work] and for the next iteration of work, at a time when the biggest change is happening to an office environment in history. We built this space with connecting people in mind."
Loffler Companies provides the most comprehensive business technology solutions in the country, with experts who build secure and optimized technology environments. Loffler's offerings include IT managed and security services, business security systems, disaster recovery/business continuity, multifunctional copiers and printers, print management services, software and workflow technology consulting, professional IT services/consulting, unified communications and on-site management of print and mail centers.
As one of the top Canon and Konica Minolta dealers in the U.S., Loffler Companies also works with leading partners such as Nutanix, Arctic Wolf, Microsoft, Mitel, 8×8, Xerox, HP, Lexmark and FP Mailing Solutions. These wide-ranging products and services exist for one purpose: to help organizations succeed. Loffler's specialized trainers, flexible billing and financing options at all price levels and award-winning service and support benefits all clients.
Founded by Jim Loffler in 1986, and now led by James Loffler, Loffler Companies is nationally recognized as a leader in business technology and managed services. Loffler is among the top office solutions dealers in the US for service and support, with more than 500 employees working every day to exceed the expectations of their clients, partners and the community. For more information about Loffler Companies, call 952-925-6800, email information@loffler.com or visit us online at Loffler.com.
SOURCE Loffler Companies